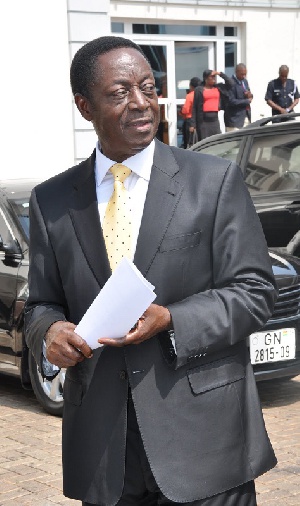 Former Finance Minister, Dr Kwabena Duffuor
The Daily Statesman has gleaned credible information which shows that the Ghana Police Service is on a nationwide manhunt for the founder of the defunct uniBank (GH) Ltd, Dr Kwabena Duffuor Snr, the former chief executive officer of the bank, Dr Kwabena Duffuor Jnr, and a former deputy governor of the Bank of Ghana (BoG), Dr Johnson Asiama.
Both Dr Duffuor Snr, a former governor of the Bank of Ghana and Finance Minister in the government of the late President John Evans Atta Mills, and Dr Asiama are said to have their eyes fixed on the running-mate slot for the opposition National Democratic Congress.

The two, together with Dr Duffuor Jnr, a son of the former Minister, are being pursued by the police to assist in investigations over their roles in the banking-sector crisis.

Following their malfunction, the Akufo-Addo government has been compelled to inject GH¢12.58 billion of public funds into nine banks, including uniBank, and other financial institutions.

Snubbed invite

The three men, according to information from police sources, are believed to be on the run after refusing to honour several invitations extended to them by police officials.

A visit to the residence of each of the three men reveals a significant presence of officers, largely in plain clothes, waiting to effect their arrest following their alleged refusal to co-operate with the police.
Officers of the Ghana Police Service are said to be bewildered by the trio's refusal to make themselves available to assist in investigations, and their decision to go under the radar or on the run.

Other information seen by the Daily Statesman suggests that the police are even willing to take statements from the three men, should they be unwilling to present themselves at Police Headquarters.

Charged

Painstaking investigations carried out by the Office of the Attorney General and the police over the past two years has led to the charging of Ato Essien, the former chief executive officer of the defunct Capital Bank, and three others on 26 counts of stealing and misappropriating GH¢262 million.

The investigations have also led to the arrest and charging of Prince Kofi Amoabeng, co-founder of the defunct UT Bank, for alleged money laundering and theft of GH¢51.3m.

He was arrested together with Michael Nyinaku, the former managing director of Beige Bank, who has also been charged with stealing and money laundering.
Court cover?

Meanwhile, Dr Duffour Snr has run to court to seek an interlocutory injunction to restrain the police from what he describes as "unlawful threats and harassment", following his invitation by the Special Investigation Team (SIT).

In a response to the SIT's invitation, Simon Animley, counsel for the embattled former Finance Minister, wrote back to the team drawing members' attention to the fact that his client ceased to be a director of uniBank as long ago as 2009, when he took up an appointment as Minister of Finance.

Dr Duffuor is seeking "a perpetual injunction restraining the defendant, his servant, agents, privies and assigns whatsoever from interfering with plaintiff's fundamental human rights".

He also accuses the police of "threats of arrest, detention, humiliation, harassment and embarrassment in public", which, he claims, constitute an infringement of his fundamental human rights.Source: thedailystatesman.comRelated Articles: